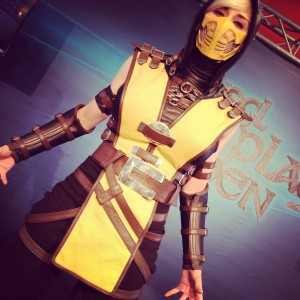 I never thought that I would visit Romania in 2015! I was delighted to be received as a cosplay guest and judge for the PGL Cosplay Open costume contest that was organized during Dreamhack Romania at the end of October. A cosplay contest in a video game competition deserved a judge wearing a video game related costume!  With the latest Mortal Kombat X that had came out, I couldn't resist temptation and I made myself a gift: a Scorpion cosplay.  A challenging leather work and a collaboration with a local jeweller for the custom, hand made silver pieces of the costume. So many details and there will be more. Distressing, skull and spears… Once it will be completed, this costume will be, by far, one of my personal favorite.
Thanks again to the organizers of PGL Cosplay Open who gave me the opportunity to visit Europe again, to discover Romania and to meet amazing, passionate young cosplayers from Romania and around.
 Visit my Instagram account for more work in progress costume pics and find out about Vincent Zimmermann from Joaillerie Zimm's who added an incredible level of details to my costume by providing custom silver buckles and pieces for this cosplay.