My collaboration with Ninja Division – Soda Pop Miniatures
You may be wondering how I started collaborating with Ninja Division – Soda Pop Miniatures and how I ended up building something as huge as Lug and Rachnera for them. Well, here's the story.
I started collaborating with Ninja Division – Soda Pop Miniatures in 2011.  They contacted me because they were interested in having me cosplaying Candy, their mascotte, and they were wondering if I knew someone who could make the costume for me.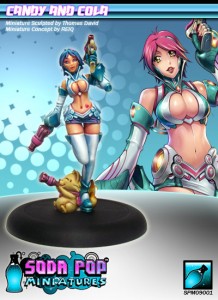 'I'm a costumer.' I said. And this is how I made my very first fiberglass costume that took 6 months to do with a friend of mine who had never, just like me, worked with fiberglass before.  We needed more time to build Candy's costume than we took to build Rachnera! Yes, I know my maker friend for many years. :) But I had never thought that Candy's costume would lead us to build such incredible things for Soda Pop in the following years.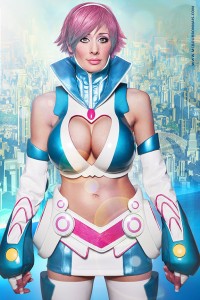 I was supposed to wear my Candy cosplay for Gen Con that year, but it turned out to be too heavy and very uncomfortable. This costume was impossible to wear in a convention. So I called the people from Soda Pop, explained them the situation and asked them if they would let me build another costume for Gen Con. Of course, they didn't mind! lol They were even very happy. I picked up Rin Farrah from the game Relic Knights.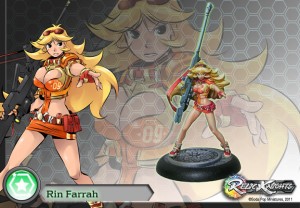 It was the very first leather costume I made. It wasn't technically perfect, but I was very proud of it.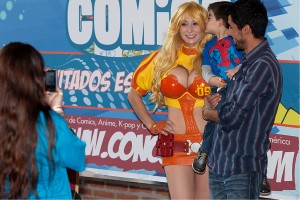 After a while, Soda Pop Miniatures offered to integrate me as a character in their games, starting with the Tentacle Bento card game.  I had my own Marie-Claude character in the game, appearing on the drawings of some of the cards and having my own special edition Tentacle Bento miniature done. So cool! I still have some of these miniatures available on my store, for those who would be interested.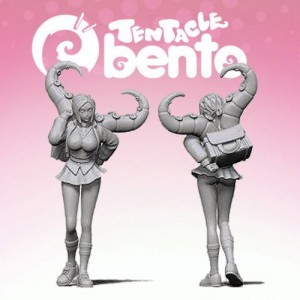 On the next picture, the character with short blond hair on the card is me. :) On the box, I'm the character wearing the green and white swimsuit.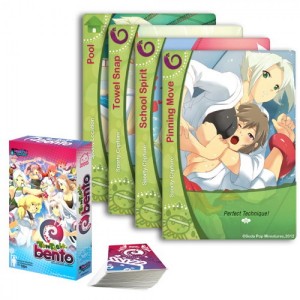 At that time, I made a very cute Japanese school gym outfit and this is one of the first photoshoots I made for Soda Pop Miniatures' Takoashi University Universe. Many of you have certainly seen those pics.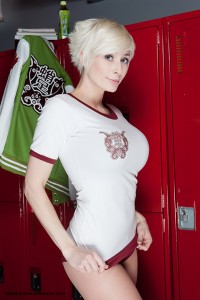 It's the same outfit they used for the Dodgeball MC minaiture.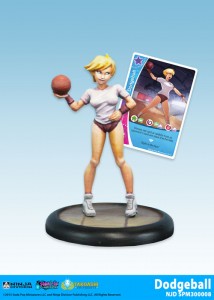 Then, they offered to integrate me in their game Relic Knights. My character would be part of the Cerci division. Consulting me during the process, asking for my preferences and opinion, they created a design for my character that would match the already existing costume designs of the game. My white Cerci suit was born!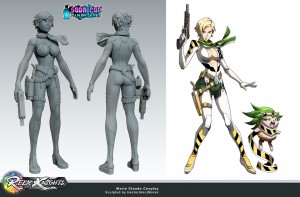 Exploring the leather universe, I had decided to use that material for that costume too, making my very first leather boots by hand. It was before I met the shoemaker who helped me with the Power Girl boots. Once again, that costume wasn't perfect, I was still experimenting a lot and didn't know all the proper techniques to sew leather.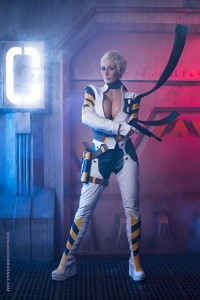 My friend and I had also built a set to take my Cerci suit in picture. This is the second big photoshoot that I made for Ninja Division – Soda Pop Miniatures.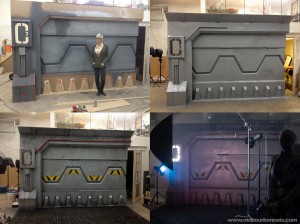 I loved that wall that decorated my workshop for more than one year. I ended up using it for the photoshoot of my 1:6 scale Heroes of the North Hornet figure. Do you recognize the wall? ;)
I was so sad when we destroyed that set… But I needed to build something else.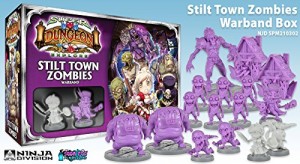 Then I was integrated in Soda Pop Miniatures' Super Dungeon Explore game. My character was part of the Stilt Town Zombies Warband Box. That time, I was an innkeeper trying to resist to the zombies attack using her huge roller pin and iron pan.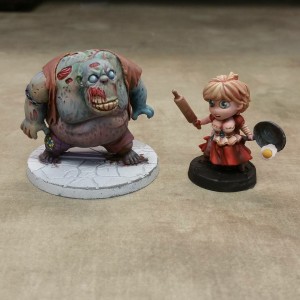 That costume was way simpler than the leather Cerci suit, but it turned out to be more popular. The cute dress and props grabbed everybody's attention and the complicated Cerci leather suit was quickly forgotten. You never know what people will like. I'm sometimes surprised by what is popular and what is not.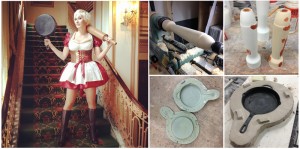 And there was also the super sexy, funny nosebleed special edition miniature!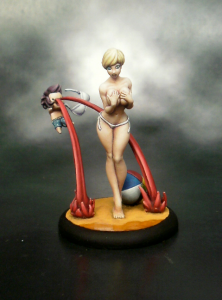 My friend, like many little boys, I guess, had always been fantasizing about building a robot. Many will have dreams and fantasies, little will make them come true. Yes, building a big robot was one of my friend's ideas. (One of his many, not always good ideas…) And since some of Soda Pop Miniatures characters were robots, he asked them if they would like to have a big robot at their booth eventually.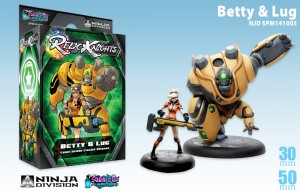 It would be such an incredible display piece! 'Would you like to have one of your robots built for real? We could do that!' said my friend to the Soda Pop people. 'Who exactly is 'we'' I asked. 'You and I' he answered. 'We have never done anything like that! What are you talking about?' I said. And my friend replied: 'We'll figure it out.' And it seems that Soda Pop was very enthusiastic about the idea of having a big robot at their booth, because they accepted to finance the project and the first thing I knew is that we were hired to build Lug, from their game Relic Knights, with the costume of Betty.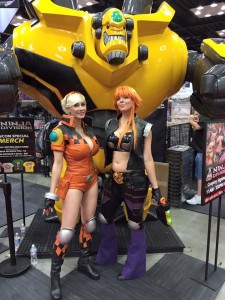 I will later write a whole blog about the making of Lug. But you already know that we finally presented Betty and Lug at Gen Con 2015. Betty was the best leather costume I had made at that time. I had met a teacher who had told me all the proper techniques to work with leather and Betty's costume was almost perfect. It remains, in my opinion, one of my best costumes to this day.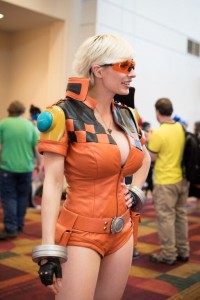 Building Lug and rushing Betty's costume was so much work that my friend and I almost died in the process, no joke. We were exhausted. But Lug litteraly stole the show at Gen Con 2015. Guess it was worthed.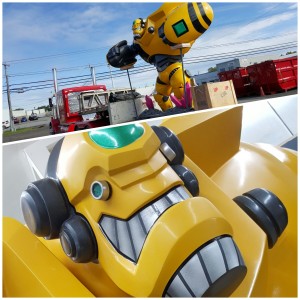 While we were remodeling Lug and completing its final version, Ninja Division – Soda Pop Miniatures contacted us because they had another project for us. It was in April of this year. This is when we started working on Rachnera. I explain everything in my Rachnera making of blog, if you want to look at it. Rachnera wasn't as big as Lug, but it was still very impressive and it truly was one of the main attractions at Anime Expo. Now I'm afraid of what my hands can build. I look at pictures of Lug and Rachnera and I can't believe that we built that. I don't know what my next project for Ninja Division – Soda Pop Miniatures will be… But one thing is for sure: if it comes from one of my friend's suggestions again, it will be a big project.