10-year career and Canadian photographers: Marc-Antoine Jean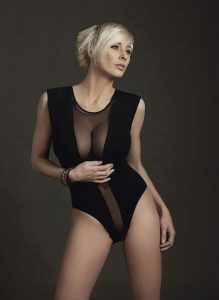 Celebrating my 10-year career! Through these 10 years, I had the opportunity to collaborate with many photographers from all around the world. 2012 is a year where I did many photoshoots particulary with Canadian photographers. Let's share local Canadian talent. :)
Marc-Antoine Jean (Marcographie) is a French Canadian photographer from Quebec City. Marc-Antoine had the opportunity to perfect his technique with a French photographer whose work was published in the greatest fashion magazines. With such a master as a teacher, Marc-Antoine became one of the best photographers I had the chance to meet in person. One of those hidden gems that you encounter once in a life time.
Marc-Antoine and I did this photoshoot together in 2012. However, a little later, Marc-Antoine's computer was stolen with all the high res files from our photoshoot on its hard disk. :( The only high res file we have left is a picture he had edited and sent me earlier. This unique, very classy and elegant picture is available as a print on my website's store.
We should definitely shoot again one day. Il faut qu'on s'organise un photoshoot, Marc-Antoine!