New Aimsee artwork by Andr01d in a handmade portfolio – Nouvelle illustration d'Aimsee par Andr01d dans un portfolio fait à la main
Finally! Unveiling that book binding Aimsee collectible I've been working on for so long! And there's a long story behind that project! :D
Il y a plus d'un an, j'ai visité le grand-père d'un de mes amis. Le vieil homme avait dans son garage d'authentiques calendriers de femmes nues des années 1960 et parmi ces précieuses antiquités, une page cartonnée présentant une photo de fille nue recouverte d'une acétate transparente sur laquelle on avait peint des vêtements. Résultat : l'acétate par-dessus la photo laisse voir une fille habillée et vous n'avez qu'à soulever l'acétate pour voir la fille nue. Une rapide recherche sur Internet m'avait permis de trouver une image de Marilyn Monroe faite de cette façon et quelques calendriers, datant tous des années 1950 et 1960. Et je me suis dit: « Quelle idée géniale! Pourquoi est-ce que je n'ai vu nulle part un produit récent fait comme ça? » S'agirait-il d'un vieux, mais brillant concept oublié?
More than 1 year ago, I visited one of my friend's grandfather. The old man had in his garage genuine calendars from the 60s showing naked women and among these precious antiques, a printed cardboard showing the picture of a naked woman, covered with a transparency film on which garments were painted. Result: the transparency film over the picture shows a woman with clothes on and all you have to do is to lift up the transparency film to see the naked woman. A fast Internet search allowed me to find a picture of Marilyn Monroe made like this and a few other calendars, all from the 50s and 60s. I thought to myself: 'What a brilliant idea! How come that I haven't seen any recent product made like this?' Would it be an old, but brilliant forgotten idea?
À cette époque, je collaborais avec Andr01d, un artiste illustrateur de grand talent dont je trouvais le style approprié pour réaliser un dessin d'Aimsee. Je l'avais engagé pour faire une illustration précise d'Aimsee qui me permettrait d'utiliser le concept de l'acétate : l'encre, qui est théoriquement l'équivalent des « vêtements » d'Aimsee lorsqu'elle est connectée à sa pieuvre yokai, serait imprimée sur l'acétate et sur la photo en dessous de l'acétate, Aimsee serait nue. :)
At this time, I was collaborating with Andr01d, a talented artist whose style would be perfect to make a specific drawing of Aimsee. I hired him to draw an illustration of Aimsee that would allow me to use the transparency film concept: the ink, that is the equivalent of Aimsee's clothes when she's connected to her octopus yokai, would be printed on the transparency film and on the picture under the transparency film, Aimsee would be naked. :)
Andr01d m'a présenté une impressionnante première version de son dessin. Je l'adorais! Puis dans un excès d'enthousiasme, il ajouté plus de détails, prenant la liberté de dessiner Aimsee avec une panoplie de tatouages sexy, même si je n'avais jamais présenté Aimsee avec des tatouages auparavant. Les taouages sur l'illustration n'ont donc pas été faits à ma demande, il s'agit d'une initiative personnelle de l'artiste. Une infinité de petits détails coquins se cachent dans ces tatouages… Tellement de détails, en fait, que j'ai rapidement réalisé que mon format habituel d'impression, 8 pouces par 12 pouces, ne serait pas assez grand pour tout montrer.
Andr01d showed me a first impressive version of his drawing. I loved it! And then, I guess he was very enthusiastic about drawing Aimsee because he continued drawing, adding more and more details, including sexy tatoos. I never presented Aimsee with tatoos, this detail wasn't made because I requested it, it was really the artist's initiative. An infinite number of little details are hiding in these tattoos, so many details, actually, that I quickly realized that my usual 8'' X 12'' prints wouldn't be big enough to show them all.
Avec son impression sur acétate, cette pièce d'Andr01d était déjà destinée à être une pièce de collection. Elle l'était maintenant d'autant plus que j'étais très impressionnée par la qualité du travail livré par Andr01d et désormais convaincue que je devrais offrir une version grand format de cette œuvre pour bien en montrer tous les détails. Il me faudrait donc non seulement déterminer un nouveau format d'impression possible avec mon imprimeur, mais aussi trouver une façon décente de présenter cette impression haut de gamme.
With its printed transparency film, this commissioned artwork by Andr01d was already intended for collectors. But I knew it would be an even greater collectible since I was so impressed with the quality of the work delivered by Andr01d and I was now convinced that I would have to offer a larger size in order to show all the details properly. So I would not only have to determine a new possible printing size with my printer, but also to find a decent way to showcase that high-end print.
Une oeuvre encadrée aurait été géniale, mais les cadres coûtent tellement cher à faire faire et coûtent aussi très cher à envoyer par la poste. Puis j'ai pensé faire produire des cadres en carton, une sorte de portfolio sur mesure, avec de la dorure, des embossés, etc. mais aucune des compagnies d'impression spécialisée en emballage que j'ai contactées n'acceptait de produire une quantité assez petite. Les quantités minimales de commande étaient gigantesques. Un imprimeur m'a mentionné le nom d'une dame qui faisait de la reliure. Une des rares relieures encore en fonction dans la province de Québec, un autre de ces métiers d'artisans en voie de dispariton au Canada. La dame se spécialise dans la réparation de livres et dans la fabrication de reliures sur mesure. À la main. Et elle donnait des formations. Je me suis donc inscrite à son prochain cours de reliure. J'ai appris en quelques cours des techniques de reliure de base. Il n'en fallait pas plus pour que je décide de fabriquer moi-même des portfolios pour présenter l'impression d'Andr01d. J'ai finalement déterminé 2 formats : un petit portfolio pour présenter une impression de 8 pouces par 12 pouces et un grand portfolio pour présenter une impression de 13 pouces par 19 pouces, un format qui permettrait de mettre en valeur les petits détails dessinés par Andr01d dans les tatouages d'Aimsee. La technique de reliure que j'ai choisie n'est pas si compliquée. Cela demande surtout de la minutie. Mais le grand format a rendu la chose vraiment plus complexe. Un portfolio assez grand pour présenter une impression de 13 pouces par 19 pouces, c'est grand! Et c'est pour cela que je n'ai fait que 25 grands portfolios.
A framed artwork would have been awesome, but framing is so expensive and shipping a frame is also very expensive. Then I considered making kind of a fancy cardboard frame or portfolio, with metallic foil, stamped patterns, etc. But all the specialized printing companies I contacted had gigantic minimum order quantities. That wouldn't be possible. A printer mentioned the name of a woman specialized in book binding. One of the latest craftsperson to still make a living out of book binding in the province of Quebec. Another of these trades that is slowly disappearing in Canada. The woman was specialized in fixing old book covers and in making various types new book covers. Handmade stuff. And she was giving lessons. I signed up for the next book binding course. I learned a few basic book binding techniques and decided to make by myself portfolios that would allow me to showcase Andr01d's prints. I made 2 sizes: a small portfolio for a 8'' X 12'' print and a big portfolio for a 13'' X 19'' print, a size that would allow to see properly all the details in Aimsee's tattoos. The book binding technique I chose wasn't that complicated. Making such a large portfolio using that technique, though, was a real challenge! That's why I made only 25 big portfolios.
La première étape consiste à couper 2 cartons légèrement plus grands que l'illustration qui sera présentée à l'intérieur. J'ai tracé les contours de chaque carton sur l'envers du matériel de reliure. L'espace entre les 2 cartons correspond à l'épaisseur du portfolio. Si l'on fabriquait une reliure de livre, il s'agirait du dos ou de l'épine du livre. Notez que pour couper ces cartons, j'ai dû me rendre chez la relieure et utiliser une presse à couper géante qui m'a permis de couper plusieurs épaisseurs de cartons à la fois. Ce type de carton est très difficile à couper avec une lame XACTO.
First step is to cut 2 cardboards that are slightly larger than the print they will protect. I traced the shape of the cardboards on the wrong side of the book binding material. The space between the 2 cardboards is the width of the portfolio. If I was making a book cover, it would be the spine of the book. This type of cardboard is very hard to cut with an XACTO blade, so I had to go to the book binding store and use a giant cutting machine in order to cut perfectly many layers of cardboards at the same time.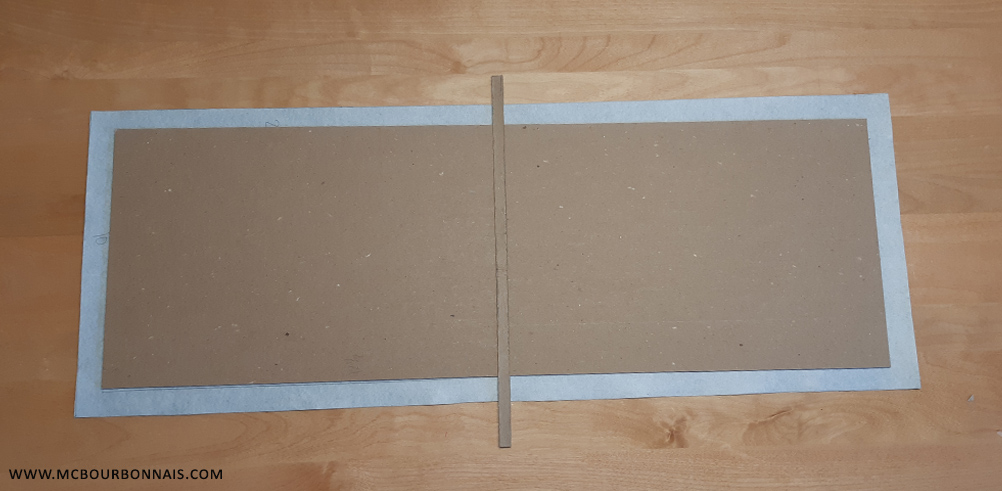 J'ai ensuite appliqué une couche de colle vinylique sur le dos de chaque carton en utilisant un petit rouleau.
Then a applied a layer of PVA adhesive.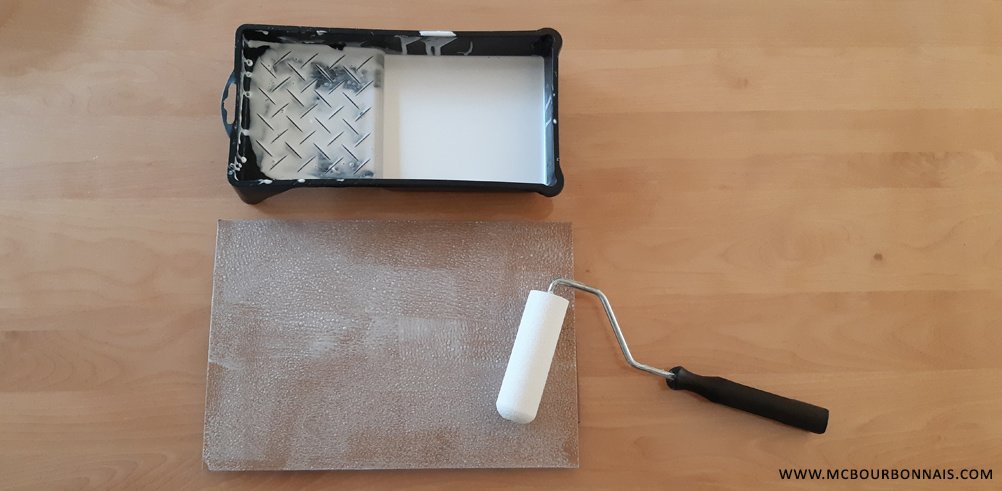 Puis j'ai collé chaque carton sur le matériel de reliure en suivant les marques dessinées à l'étapes précédente.
Then I glued each cardboard on the book binding material following the marks drawn in the previous step.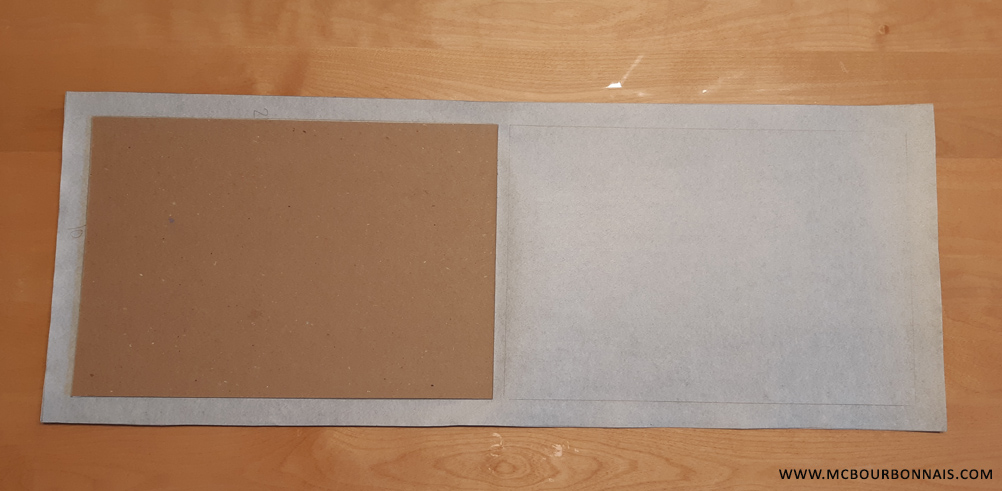 L'étape suivante consiste à plier et coller le surplus de matériel de reliure autour des cartons. Couper l'excédent de matériel dans les coins permet de plier chaque coin proprement. Il faut ensuite ajouter une couche de colle partout sur les cartons sans se rendre sur les bords.
Next step : you fold and glue the excess material around the cardboards. Cutting the excess material in the corners allow to fold the corners properly. Then you have to add a layer of glue everywhere on the cardboards, but not too close to the edges.
Un dernier rectangle de matériel de reliure sera utilisé pour faire la finition à l'intérieur du portfolio. S'il s'agissait d'une couverture de livre, ce serait l'intérieur de la couverture. Ce rectangle est légèrement plus petit que les contours extérieurs du portfolio. Il faut couvrir entièrement cette pièce de colle.
One more rectangular piece of book binding material will be used for the finishing step of the portfolio. If it was a book cover, this would be the inside of the book cover. This piece has to be slightly smaller than the edges of the outside part of the portfolio. You should apply glue all over that rectangular piece.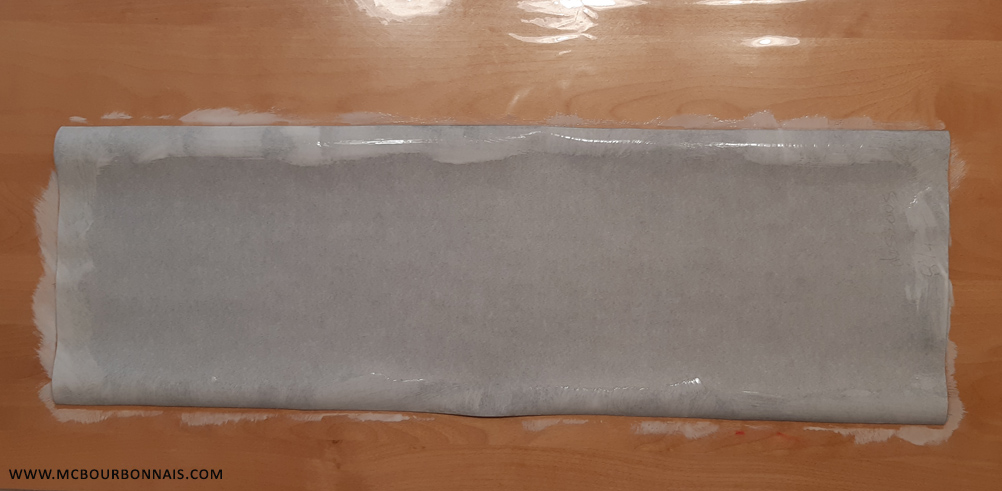 Cette étape a été la plus difficile à réaliser pour les grands portfolios. Impossible à réaliser seul pour les portfolios de 13 pouces par 19 pouces, il a fallu être 2 personnes pour réussir à tenir dans les airs, puis déposer, un côté à la fois, le grand rectangle de matériel en suivant parfaitement les contours du portfolio. Si cette pièce était collée de façon inégale, elle ruinerait le portfolio et le rendrait inutilisable. En fait, le portfolio pourrait être utilisé, mais sa finition laisserait à désirer. Une finition professionnelle présente un morceau collé parfaitement centré à l'intéreur du portfolio, laissant une bordure égale tout autour.
This step was the most complicated step to make for the bigger portfolios. For the 13'' X 19'' portfolios, it was impossible for 1 person alone to apply the latest piece of book binding material. I had to ask someone else's help to lift in the air and apply, one side at the time, this rectangular piece, following the edges of the portfolio. A piece glued unevenly would ruin the portfolio. Actually, we could still use the portfolio, but it wouldn't look professional. This latest piece of book binding material has to be glued perfectly centered in the middle of the portfolio, showing an even edge all around the inside of the portfolio.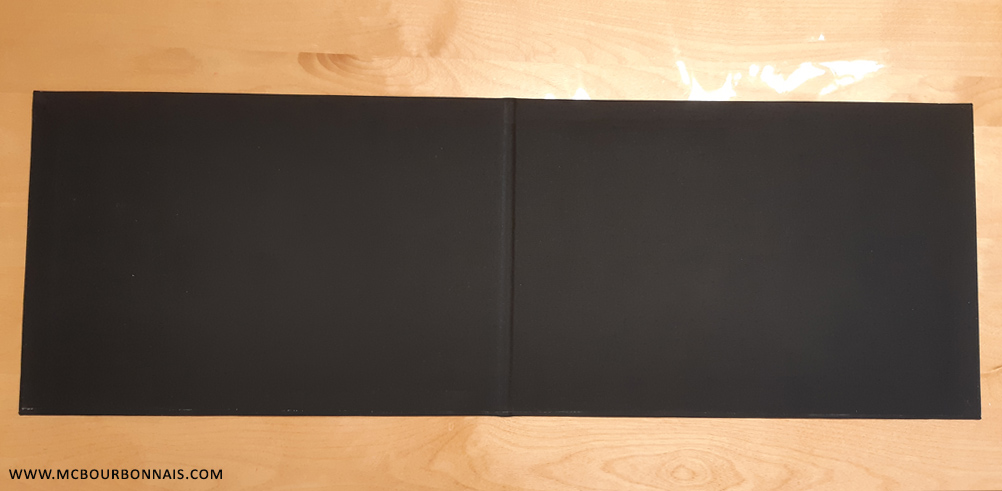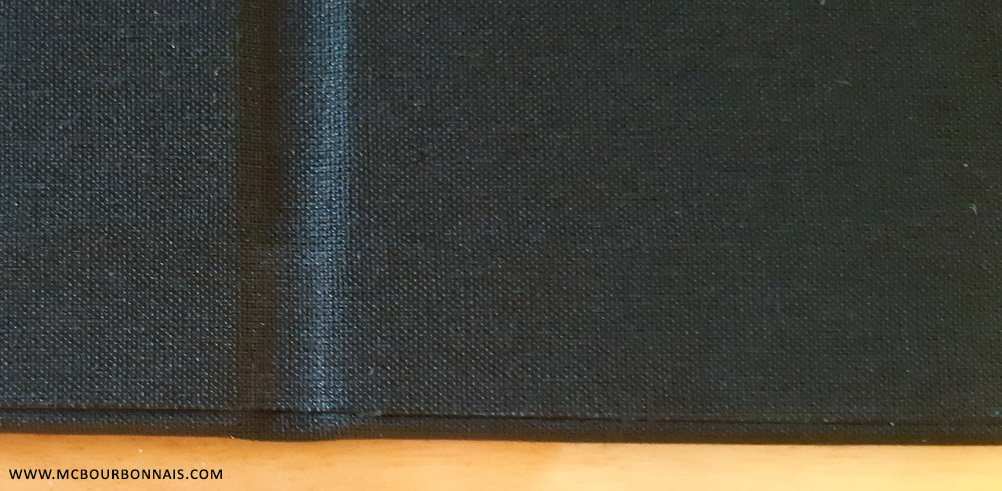 La toute dernière étape consiste à couper, assembler et coller les triangles qui serviront à insérer l'impression et à la tenir en place dans le portfolio.
The very last step was to cut, assemble and glue the triangles that will hold the print in the portfolio.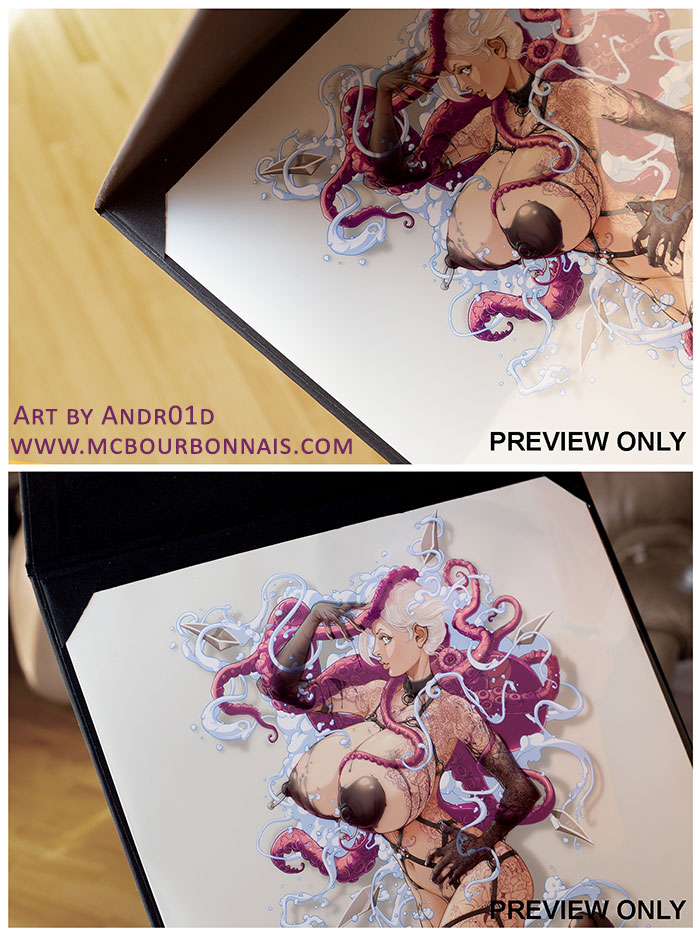 J'ai fait plusieurs petits portfolios pour les impressions de 8 pouces par 12 pouces. Plus rapides et faciles à faire, je ne crois pas que je limiterai leur nombre. Je pourrai toujours en refaire d'autres plus tard. Par contre, les portfolios pour les impressions de 13 pouces par 19 pouces ont été très longs et complexes à fabriquer, alors je n'en ai fabriqué que 25. Si vous désirez commander une impression format 13 pouces par 19 pouces avec acétate du dessin d'And01d dans un portfolio, sachez qu'il n'y en aura que 25 à vendre. Il s'agit d'une édition très limitée. J'offrirai aussi le dessin d'Andr01d en poster format 16 pouces par 24 pouces (sans acétate, avec l'encre intégrée dans le dessin) comme les autres posters sur papiers irridescent offerts sur ma boutique. Ces posters livrés dans un tube de carton deviendront un item régulier de ma boutique, ils ne seront pas offerts en quantité limitée.
I made many small portfolios for the 8'' X 12'' prints. I don't think I will make them a limited edition, I could always make more small portfolios later. However, the 13'' X 19'' portfolios were so complicated and long to make that I made only 25. If you want to order a 13'' X 19'' Andr01d print with a transparency film in a portfolio, there will be only 25 available. It's a very limited edition. I will also offer Andr01d's art as 16'' X 24'' posters on pearlescent photo paper. These posters (without the transparency film, with the ink as part of the printed drawing) will become permanent items on my store, they won't be a limited edition and they will be shipped in a cardboard tube like all my other posters.
Alors, voici vos options! L'impression format 8 pouces par 12 pouces avec acétate présentée dans un portfolio et les différentes versions de posters format 16 pouces par 24 pouces sont disponibles directement sur ma boutique. www.store.mcbourbonnais.com Pour commander un des 25 portfolios format 13 pouces par 19 pouces Édition Limitée, contactez-moi au contact@mcbourbonnais.com. Le prix est de 84,95$. Vous avez le choix entre 4 versions du dessin d'Andr01d, avec l'encre imprimée sur l'acétate, le tout présenté dans un portfolio grand format. Indiquez votre choix d'illustration dans le courriel. Pour les frais de poste, prévoyez 15$ à 20$ pour un envoi au Canada (varie selon les provinces), environ 30$ pour un envoi aux États-Unis, environ 85$ pour le Mexique, l'Europe, l'Amérique du Sud et l'Afrique et 90$ pour l'Australie. Je vous offrirai les options d'envois postaux précises par courriel et vous enverrai une facture Paypal. Maintenant, faites votre choix!
So here are your options! The 8'' X 12'' print with transparency film presented in a portfolio and the various versions of the 16'' X 24'' poster on pearlescent photo paper are sold directly through my online store. www.store.mcbourbonnais.com
To order one of the 25 Limited Edition 13'' X 19'' Portfolios, send me an email at contact@mcbourbonnais.com. The price is 84,95CAD. You can choose 1 of the 4 versions of Andr01d's art, with the ink printed on the transparency film, with both the print (on pearlescent photo paper) and the transparency film sold in a handmade portfolio. Shipping fees will vary. Canada: from 15$ to 20$ depending on the provinces, USA: around 30CAD, Europe, Mexico, South America and Africa: around 85CAD and Australia: around 90CAD. I will personally send you the detailed shipping options through email depending on your country and I will send you a Paypal invoice. Now let's make your choice! :)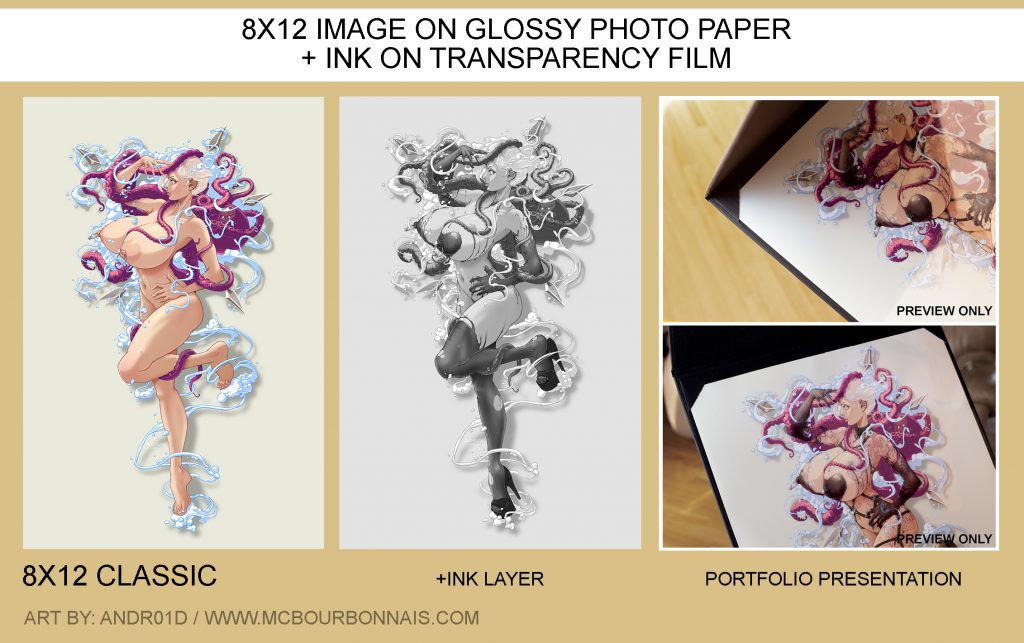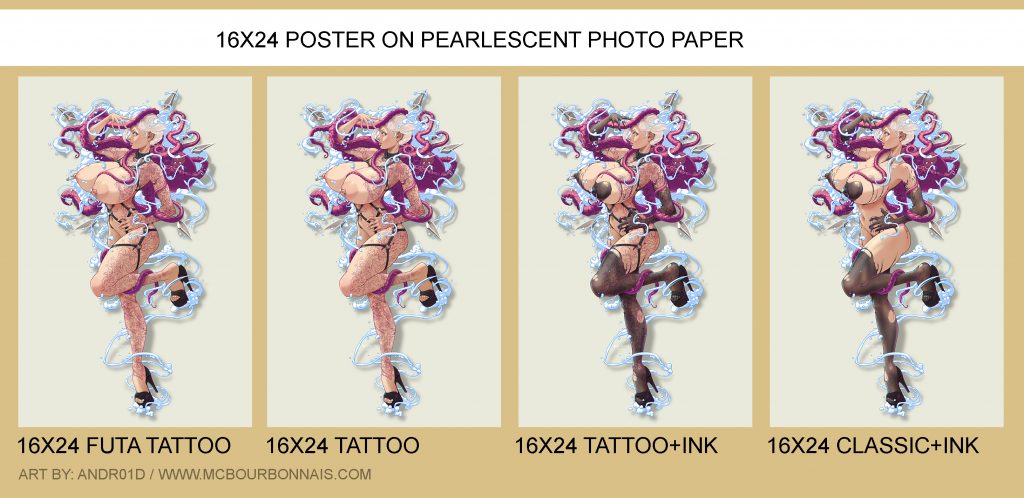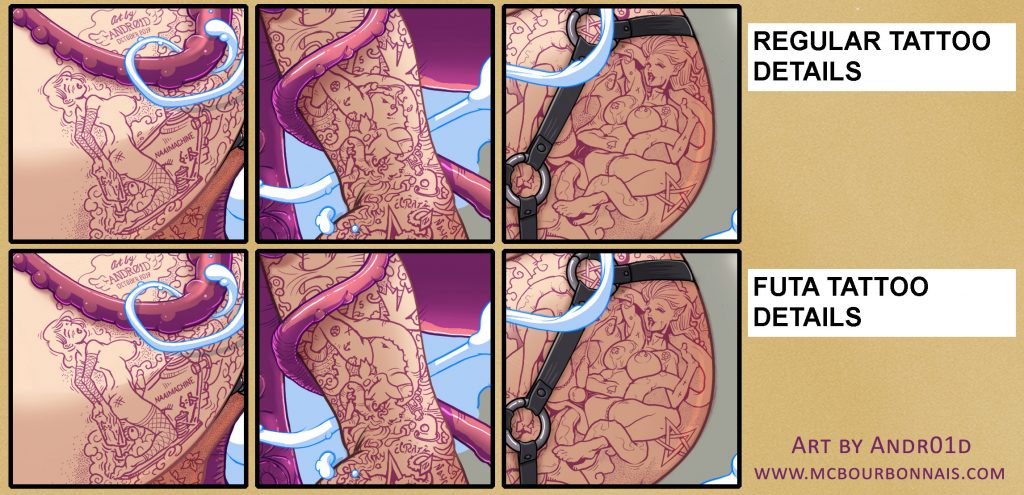 Pour voir plus d'illustrations par Andr01d:
To see more of Andr01d's work:
Instagram: @andr01d.art
Twitter: @andr01d