Rachnera Arachnera Cosplay From Monster Musume – The Making Of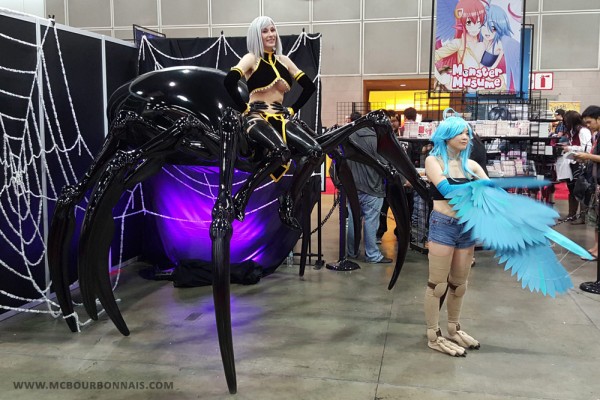 My Rachnera cosplay is by far the most popular project I've ever made. In 2016, my friend and I were hired by Ninja Division to build a costume for Anime Expo in Los Angeles. Ninja Division, the tabletop game company I've been collaborating with for years, would be sharing a booth with Seven Seas Entertainment, a company that publishes licensed mangas translated in English. From all the mangas published by Senven Seas Entertainment, they chose Monster Musume and they gave me a few characters to choose from. I thought that Rachnera would be the most impressive character to bring to life, the most interesting exhibition piece.
My friend and I decided to make a giant fiberglass statue I would be sitting on during the convention. Since we had built a fiberglass robot the year before, we knew what we were undertaking.  It was still a pretty intense project and the deadline was short. Rachnera was built in exactly 2 months. 
At the time, Monster Musume: Everyday Life with Monster Girls, the anime based on the manga, was very popular on Crunchyroll.  The work in progress pics I posted on the social medias during the making of Rachnera drew a lot of attention, but I was too busy building the thing to realize how popular the project really was. Actually, the making of Rachnera went viral. 
What I didn't know is that Okayado, the manga artist and creator of Monster Musume, was one of the convention's guests and he had apparently been following the making of Rachnera, reposting my making of pics on his own Twitter account. 
At some point, there was so many people checking out my website that it shut down and I had to call my website hosting company to fix that. The project was so intensively followed online that someone who didn't like me reported on purpose some sexy pics on my Facebook fanpage so I couldn't post a picture for 24 hours. It was just before Anime Expo. The day after, I got another picture reported, so I couldn't post a picture on my Facebook for 72 hours. I could finally post a 1st picture of my Rachnera on Facebook on the very last day of the convention.
As a bonus, there was even an article about my Rachnera cosplay in one of the main newspapers of my province, Le Journal de Montréal, which is exceptional, because the traditional medias in the province of Quebec are rarely awared of what is going on with that type of pop culture on the Internet. 
During the convention, Okayado came with his translator and we took a picture together. :D My fiberglass seat was the least comfortable seat in the history of cosplay, but I was happy.  I had a blast attending AX2016 with my giant spider! Plus, the Rilakkuma booth was just next to Ninja Division's booth. When I wasn't sitting on my spider, I could watch Rilakkuma dancing! I was exhausted, but so happy! lol I think it's the most memorable weekend of my life! lol 
For those who like reading, I wrote a complete Making of blog about Rachnera.  I explain all the steps one by one.  
https://mcbourbonnais.com/en/tag/rachnera/
And if you just want to have a quick look at the making of pics, they're all in this gallery. :)