Sexy Marie-Claude Dakimakura pillow case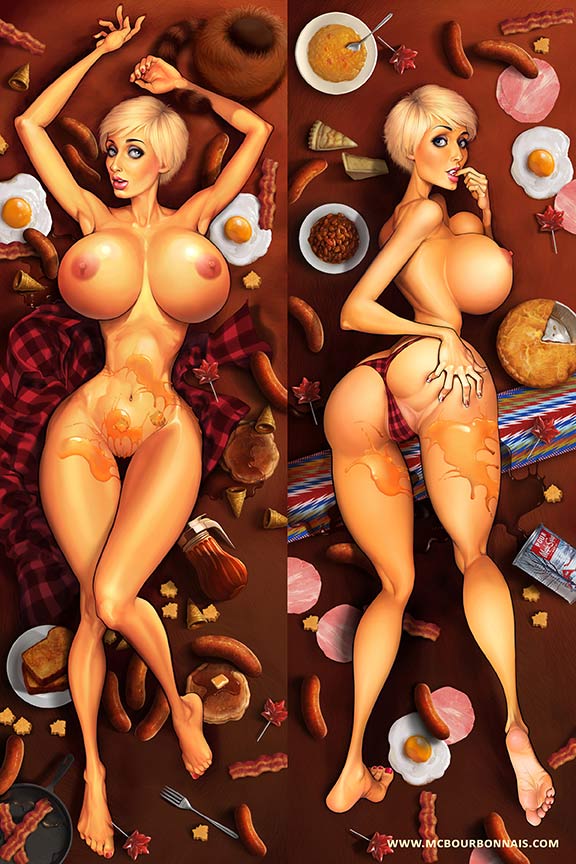 Right on time for those of you who have started looking for Christmas gifts, I received a new batch of my sexy sugar shack themed dakimakuras! The pillow case is 5 feet long, but the breasts are bigger than life!
For those who like my glamour stuff and have no idea of what Japanese pop culture is all about: a dakimakura is a body pillow case portraying a sexy anime character. One pic on the front, one pic on the back. ;) Hug the pillow!
For all my fans outside Québec: sugar shack is a traditional and very popular thing here in Québec!  A sugar shack is kind of a cabin in the woods where sap collected from sugar maple trees is boiled into maple syrup. (By the way, unless you live in Vermont and maybe in Maine, chances are that you have probably never tasted real good maple syrup. The corn syrup served in American restaurants for pancakes makes me wanna cry.) In a sugar shack, they will serve taffy on snow (you have to Google this) and complete breakfasts/meals that you traditionally eat with a lot of maple syrup: eggs, pancakes, bacon, ham, sausages, French toasts, baked beans, meat pie, pea soup,crispy pork rinds, etc.  And my favorite: real maple syrup candies with a maple leaf shape and small cones filled with maple butter.  Happiness is in chocolate AND maple butter. And here I am, covered with maple syrup, laying in French Canadian traditional deliciousness… Be ready for your next party, get your MC sugar shack dakimakura! lol
Get your dakimakura here. Art by Artofjaguar.com