New artwork by Pollenoxide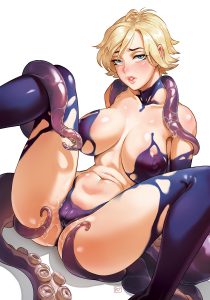 Sometimes I really get carried away and send a lot of references and super detailed requests to artists. This is what happened with Pollenoxide when I saw the Kaguya Luna pic he made (the censored version). This illustration revived my old love story for Queen's Blade's universe and made me want to ask him for a 'defeated Aimsee' picture similar to those found in Queen's Blade's combat books. Pollenoxide's style is a little different, but there was enough similarities to trigger an urgent need for a new art piece! 
Do you like it? Let me know, because I'm about to have way more done! ;D Hope some of you share my enthusiasm for this look! 
The best way to enjoy Pollenoxide's work: