New Aimsee artwork by artist Sakimoto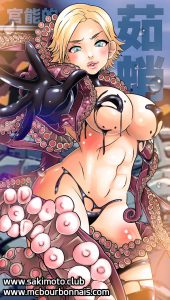 I had a wonderful time chatting with Sakimoto and I'm super happy about the result! I had a long list of requirements for this piece and she masterfully succeded in fulfilling my request :) She's badass!
You can find Saki and request a commission! Her website is pretty detailed and might help people who are uncertained and don't know how to manage a first commission. You can also contact her and make some artwork suggestions, I bet you will really enjoy this experience. She's pretty busy so visit her website now to be on the waiting list.
Show some love!
Sakimoto Club: http://www.sakimoto.club/
Tumblr: https://sakimotoayame.tumblr.com/
Twitter: https://twitter.com/SakimotoAyame
Hentai Fondry: http://www.hentai-foundry.com/user/sakimoto/profile
Aimsee artworks and Aimsee branded collectible products available: www.store.mcbourbonnais.com