My next cosplay: Fallout 4 Vault suit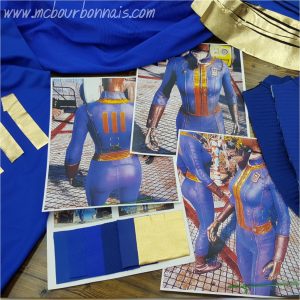 I started 2018 working on a 'secret non cosplay costume project.' 2 months where I couldn't talk about what I was doing because I signed a non disclosure agreement. I built 3 costumes and different props for a 4th character that didn't need a costume, I did 4 photoshoots and I couldn't share any picture, any tiny preview, I wasn't allowed to give any little clue. I'll be allowed to talk about this project and promote it only once it will be unveiled by the company that hired me.
But finally, this project is over! And I can move on to a cosplay project I've started a long time ago. I'm very excited to announce that my next cosplay will be a Fallout 4 Vault suit with different props, including a Pip-Boy that was 3D modeled by Dutch Props, the same 3D modeler who made my Scorpion mask. Dutch Props on Instagram: @dutchprops
Even though I love video games' designs, you know I'm not a good gamer… Sorry! lol I can never play for a long time because I get killed all the time! lol But I have a lot of gamer friends and one of my friends is a huge Fallout 4 fan. I spent an infinite amount of hours watching him play to have a good idea of the game's environment, the backgrounds, objects, costumes and armors' designs. I also got the collectible art book. I love Fallout 4. It's an interesting mix of designs inspired from the 50s and the 60s, a perfectly well balanced retro futuristic look. The Vault suit is a beginning. I might do more cosplays from Fallout 4 eventually.  ;)
Check out my Twitter (@mcbourbonnais1) and Instagram (@marieclaudebourbonnais) for regular updates about this costume. And yes, I'll write a Making Of Blog for this cosplay, of course!