Assassin's Creed Odyssey – Soirée de lancement au LvlOp le 5 octobre 2018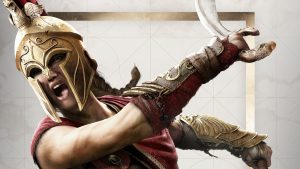 Oui, il y a une raison pour laquelle je fabrique présentement le costume de Kassandra d'Assassin's Creed Odyssey!  Je porterai mon costume de Kassandra pour la soirée de lancement du jeu qui aura lieu au bar LvlOp le 5 octobre prochain! :D Des membres de l'équipe d'Ubisoft Québec seront présents ainsi quelques fans d'Assassin's Creed chanceux!  Et ce n'est pas tout!  Bonne nouvelle: j'ai une paire de billets exclusifs à faire tirer si vous voulez assister à la soirée de lancement!
Pour participer, envoyez-moi à contact@mcbourbonnais.com une photo d'un costume d'Assassin's Creed que vous avez confectionné ou sur lequel vous travaillez en ce moment et je choisirai mon préféré d'ici vendredi midi!  Tous les détails sur l'événement : https://quebec.ubisoft.com/fr/odyssey-soiree-exclusive/
Note : le concours n'est pas ouvert qu'aux gens de Québec!  Si vous êtes prêts à voyager et à partir de loin pour venir au lancement d'Assassin's Creed Odyssey à Québec, vous êtes les bienvenus!  Cependant,  ce concours vous permet de gagner les billets d'entrée seulement, vos frais de déplacement ne seront pas couverts.
Au plaisir de vous voir le 5 octobre!
Yes, there's a reason why I've been working on Kassandra's costume from Assassin's Creed Odyssey!  I will wear my costume for the launch of the game organized at eSports bar LvlOp in Québec City on October 5th! :D Some people from Ubisoft Québec will be there with some lucky Assassin's Creed fans!  Good news: you could win 2 VIP tickets to attend the event if you send me a picture of your Assassin's Creed cosplay or some making of pics of an Assassin's Creed cosplay you're working on right now.  Send me your pictures at contact@mcbourbonnais.com and I'll choose my favorite costume before Friday, noon. :)
For more details about the event: https://quebec.ubisoft.com/en/odyssey-vip-party/
Note : This contest isn't only for people from Québec City.  You can totally enter the contest wherever you are if you're willing to travel!  However, this contest will allow you to win your tickets to attend the event only, your traveling expenses won't be covered.
See you on October 5th!