Assassin's Creed Odyssey Cosplay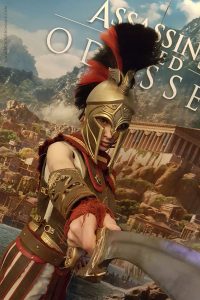 After 2 months of intensive work, I finally made it! :D Most of my Assassin's Creed Odyssey costume was ready on time for the game's launch event organized by Ubisoft Québec on October 5th. Only little details of my costume are still missing and I will complete everything for Comiccon de Québec.  I will also continue working on my Fallout 4 Vault suits and soon continue writting my Making of blogs!
Après 2 mois de travail intense et acharné, j'ai finalement réussi à compléter la majorité de mon costume d'Assassin's Creed Odyssey à temps pour l'événement de lancement du jeu organisé par Ubisoft Québec le 5 octobre dernier! Il manque toujours quelques détails sur mon costume, mais je compléterai le tout pour le Comiccon de Québec les 20 et 21 octobre. :) Je vais aussi pouvoir retourner à la confection de mes Vault suits de Fallout 4 et bientôt continuer mes blogs de fabrication! On se voit au Comiccon de Québec!