Aimsee & Keira Collectible Standees for Maple Syrup Season!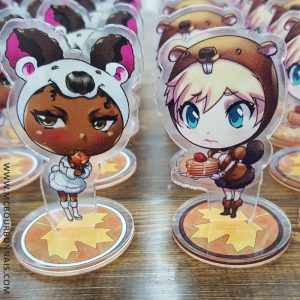 It's sugar shack time in Quebec! A sugar shack, or 'cabane à sucre' in French, is kind of a cabin in the middle of a maple tree forest where we harvest maple sap and boil it to make maple syrup. Sugar shacks sometimes have a restaurant section where they serve breakfast and brunch meals featuring a lot of maple syrup and some maple products.
I'm super excited to unveil my new Aimsee & Keira collectibles: the Maple Syrup Special Edition Standees!  Here's Aimsee dressed up as a little beaver who's serving maple syrup pancakes and Keira dressed up as a cute polar bear with her maple leaf shaped maple syrup lollipop.
Order your standees now! www.store.mcbourbonnais.com
Acrylic Standee's height: 2.5 inches – Base diameter: 1.5 inch
Artwork by Pop-Lee, Instagram: @popleeart
If you remember the custom Sugar Shack Themed Dakimakura I unveiled a few years ago… Now that you know what a sugar shack is, you'll understand better all the delicious details from this artwork. ;) Art by Art of Jaguar. Dakimakura (5 feet long body pillow case) available on www.store.mcbourbonnais.com