10-year career: Power Girl Interview Blooper on Global Montreal
Celebrating my 10-year career! Back to September 2014, when I was a cosplay guest at Montreal Comiccon and when I worn my Power Girl cosplay for the 1st time!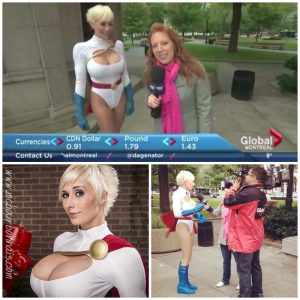 Montreal Comiccon's organization had a big marketing plan to pomote their event. As a local cosplayer, they booked me for many interviews on different TV and radio shows through the province of Quebec during the weeks before the comiccon.
One of these interviews was for Global, 2 short interviews very early on the morning of the comiccon's first day, the 1st interview being at 6:45am if I remember correctly. It was so cold outside that I had to cover myself with a wool blanket I was carrying in my car, and the TV crew made me wait in its truck between the interviews because I was freezing outside in my Power Girl costume. Hard nipples were outrageously showing off through the white fabric of my bodysuit independently of my will because it was so cold in this Canadian fall morning. When the TV anchors saw me in the studio, I think they were not expecting to see a girl showing that much cleavage, with such big breast implants, in a sexy cosplay costume, out of nowhere early in the morning. They start laughing live on TV and my appearance on Global TV and the hosts' reaction were part of a bloopers montage that you can still find on Youtube.
Bottom left pic: Photographer: Grumpy Bear Productions
Power Girl prints available: www.store.mcbourbonnais.com