Marto Napoli Sushi Boats Making Of
Time to finally unveil one of these secret non cosplay projects I've been working on earlier this year!  Remember these 2 props I mentioned that needed to be customized? They were actually sushi boats for a local restaurant. :D But not any sushi boats…
Marto Napoli is a radio host I met back in 2007 when I entered a contest to be part of a calendar that was organized, at the time, by the radio station where he was working. We've been friends since then. :) Marto is a colorful character with a unique sense of humour. He always has crazy ideas and projects. This time, he partnered with a sushi restaurant called Nicky Sushi in Quebec city. The restaurant was totally remodeled and they now have a sushi conveyer belt… with sushi boats, of course. Marto wanted to have his own personalized sushi boat with a mermaid figurehead. And not a traditional mermaid, of course. A mermaid that would have his face.
So my mission was to transform 2 plain sushi boats into funny party boats with a lovely mermaid as a figurehead. Here's what I did.
The original sushi boats were black and dark red. It was obvious that the colors needed to be changed for something more flashy. First step was to remove the original paint, which I tried to do by using acetone, but it made the surface of the plastic 'melt'. So I finally water sanded all the boat pieces. I decided to go for metallic colors, gold and bright red. On the next picture, you can see the pieces of one boat with the new colors and at the right, the part of the second boat with all the original paint removed.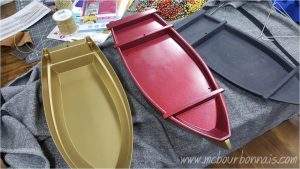 Marto's party boats would need to have a lot of added details to make them look really different from the original ones. I decided to add kind of a little deck. I built the original one using thin plastic boards they sell in hobby stores. Special thanks to my grumpy friend who helped me by molding the deck, casting 2 copies in Smooth-On Smooth-Cast 321 and painting the casted decks in gold. At that point, I had realized that these sushi boats would require way more work than what I had evaluated. :S A little help was more than welcome. Then I made tiny red curtains to hide the inside of the decks.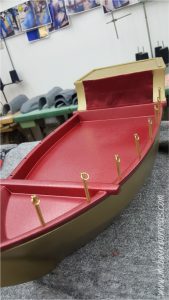 I found at my local hobby store some miniature brass tubing. I don't know what people usually use it for, but I used it to make small poles to which I wanted to attach a little golden chain. On the next picture, you can see the chain roll in the background.
I cut the brass tubing in little sections, pierced a tiny hole in each section and added golden rings that would later allow me to attach the chain. I didn't want to only glue the brass tubing, so I  pierced holes in the plastic boat to insert AND glue each little pole.
I hired a 3D modeler to make the mermaid's body, Marto's portrait and a ship mast. I 3D printed everything twice. I thought it would be faster to sand 2 mermaids than to sand one, mold it and cast 2 copies. Especially since for once, the typical 3D printing texture was giving the mermaid a  look of wood texture. I didn't remove all the 3D printing texture from the mermaid tail's scales.  But I carefully water sanded the mermaid's upper body and head, as always do with my 3D printed PLA pieces.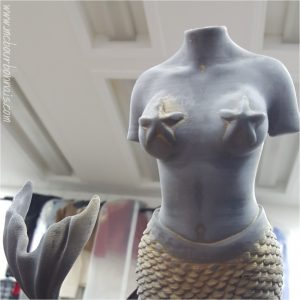 The head. What a head! lol Poor little mermaid that was so sexy before I put my friend's head on it! With his signature beanie. Marto always wears a beanie. There's an opening in the back of the mermaids so they could 'sit' in front of the boat and be solidly glued.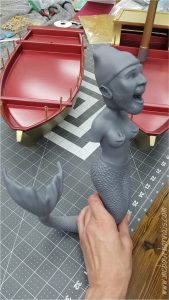 The mast was an easy step. 3D printed, sanded and painted. I made the sails using inkjet printable heat transfer material. The graphic design says 'delicious' in Japanese. :D The transfer was applied to a piece of red fabric, the same used for the tiny curtain on the deck, so the back of the sail is red.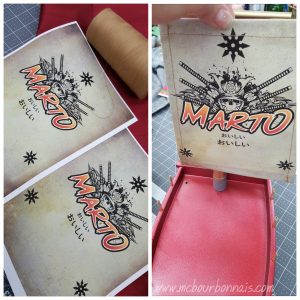 Then I added the chain between each little pole. I made cute flags using colorful heat transfer material. I folded each flag in 2 around a metallic rod and glued the heat transfet to itself around the rod. The space left by the rod allowed me to thread the flags on a golden embroidery thread.
Last but not least, I made sure that the boats would still float with all the added weight. With the mermaid's tail going on one side of the boat, I had to add some weight inside the sushi boat to balance it. And yes, it floats! :D
Here they are, the final party boats/sushi boats! Now all I want is to eat some sushi. :D