Marie Claude and Esmee 1:8 Scale Polystone Collectible Statue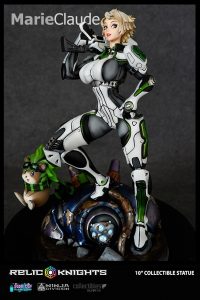 I'm so excited to finally announce my latest collaboration with Ninja Division!
Here it is, a 1:8 scale figurine of my character in Ninja Division's game Relic Knights! :D How cool is that! Exceptionally, the figurine won't be available through my own online store. You have to pre-order your figurine using the link bellow. The price is 179.99USD. Please note that all the figurines will be shipped from the USA by Ninja Division.
https://ninjadivision.com/products/silver-fox-collectibles/marie-claude-and-esmee-1165.html
THIS ITEM IS FOR PREORDER ONLY.
Orders will be taken until May 30. Expected delivery date is June 30.
For information regarding your order or shipping dates, please contact Ninja Divison's Customer Service.
Collaborating with Ninja Division Publishing and Soda Pop Miniatures, Silver Fox Studios will be creating a range of collectible statues from the tabletop game Relic Knights. This 1:8 scale statue will be made of high quality polystone resin and each one will be hand painted and very limited to 500 pieces worldwide.