Fallout 4 Vault Suit Making Of Blog – Part 1: the inspiration behind the design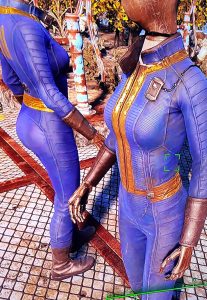 I often hear in the cosplay community that video games costumes are considered like being more difficult to build because they can be so highly detailed. It's the difference between a costume from a comic book or a manga, that will be quickly drawn and reproduced from a frame to another, slightly different depending on the artist who draw it, and between a video game costume, which is a texture map applied to the surface of a 3D model. No matter how complicated the costume is, all the details will always be there, from every angle, all through the game. Yes, some video games costumes are highly detailed and that's exactly what I like about them. As I always say, cosplay was useful for me not only to give some international exposure to my skills as a costumer, but also to help me acquire some very advanced skills. I used cosplay as an excuse to make challenging buiding projects, choosing on purpose very complicated costumes that would necessary make me learn something new.
One of my friends is an excellent gamer and a huge Fallout 4 fan. He introduced me to the game that I found, to be honest, pretty boring at the beginning. Walking around in a destroyed world collecting garbages of all kind and killing people didn't seem like the most exciting thing to me. And even though I built a robot, I'm not attracted to robots at first glance (sorry guys, I might be a cool girl, but I'm still a girl and I'm more into fashion than robots) and I wasn't seduced by the game's technology and power armors. At least not at first.
With my very limited gaming skills, I gave the game a try so I got to see the story from the beginning, noticing the characters' clothes and the objects' designs inspired from the 50s and 60s and I started to find the game more interesting. The more I discovered the game, the more I saw all the design searches that the Bethesda team made to give this apocalyptic world a 'retro' feel that would show through clothing and costumes, but also through objects and architecture. The created brand Nuka Cola, an obvious allusion to Coca Cola, which is intimately related to the 50s diners and rockabilly fashion, is the first reference to the 50s that is present all through the game and in Nuka-World, of course. It makes me want to have a milk shake.
Then, there's Codsworth, a helping, kind of housekeeping robot that immediately brings you in the future with its advanced technology. But at the same time, it remembers me of an expensive electrical appliance like one of these fancy things that were introduced to the housewives in the 60s 'to make their lives easier' and help them in their daily cooking and housekeeping tasks.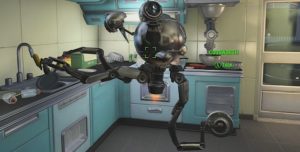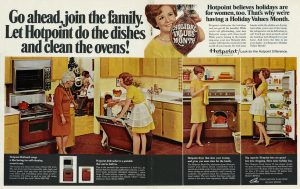 The turquoise color of the kitchen in Fallout 4's opening scene was chosen on purpose. It was such a trendy color in the 60s…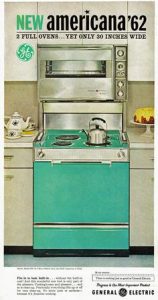 The 60s was the decade of the space conquest, the decade where a man first went in space, where a man first walked on the moon, the decade that saw the birth of cult shows and movies like Star Trek and 2001: A Space Odyssey. That fascination for space, the years 2000 and future in general tinted the 60s.  It had influences on its fashion (think of the one of a kind metal dresses by Spanish Fashion Designer Paco Rabanne and legendary Mondrian dress by French Couturier Yves Saint Laurent in 1965) but also its furniture and architecture designs, with its spaceship inspired, curved objects (like the iconic Ball Chair designed by Finnish furniture Designer Eero Aarnio in 1963.) Watch the 1968 movie Barbarella and you'll get the picture (lovely, lovely Jane Fonda.) By the way, Barbarella's green outfit was by Paco Rabanne.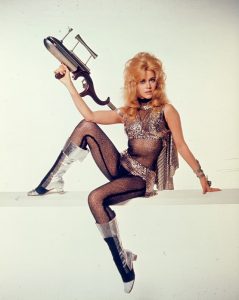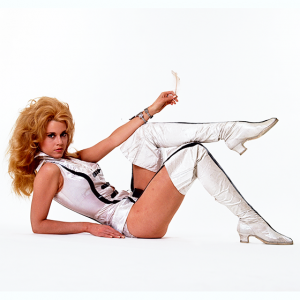 Do you see the inspiration for the Nuka-Girl, now? She's a perfect mix of the 50s and 60s fashion trends, with her Pin-up pose and retro astronaut inspired costume.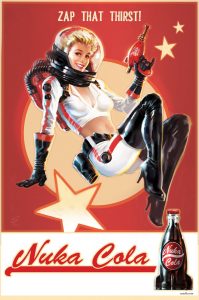 Doesn't the Vault suit design make more sense once you saw the bold colors of the Mondrian dress and Paco Rabanne's metallic dresses?
As a girl who studied Fashion Design, the fashion history from the 60s remains one of my (cheesy) favorite, with its use of PVC and man made leather, gogo boots, lurex and other knits with metallic threads, bold and metallic colors, indecent mini skirts (have a look at Star Trek women's costumes again) and short haired women with 'yeux de biche' makeup.  The future and technology as imagined by the people from the 60s, without the flying cars: that's the spirit of Fallout 4, on a backgound of apocalypse, with a touch of Nuka Cola. A retro futuristic post-apocalyptic game. And all of a sudden, Fallout 4 fascinated me.
It's actually my friend who suggested it. 'You should do a Vault suit cosplay.' Fallout 4 was already an 'old' game and once again, it wouldn't be as trendy as a cosplay from Overwatch or from any other more recent video game. But I was tempted. And I gave into temptation.
I started analysing the Vault suit design, looking at the costume from every angle. There was certainly an intention from the concept artists to give the Vault suit a futuristic look. Conan O'Brian, in his Clueless Gamer  Fallout 4 review, wearing a Vault suit, said he looked like 'someone who was asked to leave an avant-garde Swedish pop group.' (If you haven't seen this, you have to check this out. It's hilarious.)
And the Vault suit actually does look like this, when you think of it. After all, this suit is meant to be worn in the vault that would protect you in case of a nuclear explosion. It's a technological suit. The padded, quilted parts on the middle front of the suit and on the sleeves, the numerous yokes, the fabric texture  applied to the 3D model in the game all give the suit a 'futuristic' look and the golden touch was a clear reference to the 60s retro fashion, or how a futuristic suit would have been imagined through the fashion trends of this decade. In order to make a 'credible' or realistic version of the Vault suit, the golden parts of the costume would obviously have to be made of gold metallic knit or thin stretch PVC, even though I would personally have prefered gold lamb skin, because metallic fabric was so popular at the time and would be so much more coherent with the game's designs. (That being said, other costumes and armors in Fallout 4 clearly have a look of genuine leather or are identified as leather in the game, referring more to the post-apocalyptic imagery of the game.) But the Vault suit remains a clear allusion to the fashion from the 60s and with its tight fit, bold plain blue color and golden touch, I can't keep myself from thinking of the original Star Trek crew's costumes. Tight shirts, short dresses and so much glitters. Bring me some textured blue knits, please, so I can bring this Vault suit to life!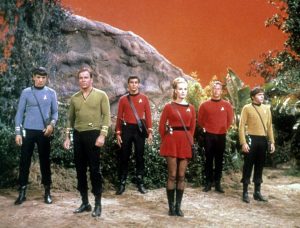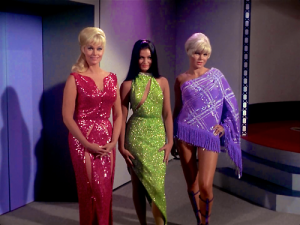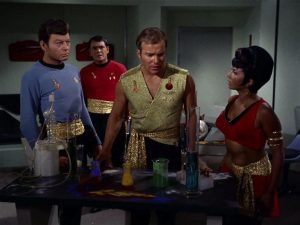 Then, I analysed the Vault suit's pattern.  If I had to give a medal to the actually complicated costume that is often mistaken for a simple one, I'd give it to the Fallout 4 Vault suit. So many cosplayers made that costume and none of them ever made THAT special yoke on the side of the suit that changes all the sewing order of the pieces.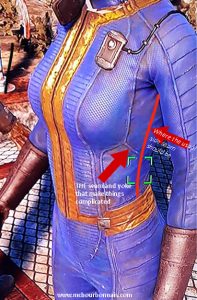 That pattern detail itself changes all the logic of how this suit could be sewed. The shape and position of this seam under the arm doesn't only change the conventional or usual order in which a shirt or sweater or full bodusuit is sewed, but it's simply complicated to sew. No Vault suit made in Asia and sold on the market includes that detail because it wouldn't be profitable to mass produce this suit that way. Everybody just skips that seam. The big cosplay costume companies ignore that detail because it's not worth it and the average cosplayer probably never noticed it. But I'm no average cosplayer, right? ;)  So here's how my Vault suit pattern looks like.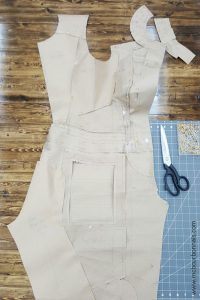 In pattern drafting, we always work on half of the body, most of the pattern pieces will be cut twice in the fabric for our left and right side (unless you're working on an asymetrical piece of clothing.) Traditionally, for men's clothing, we make the pattern pieces of the left side. For women's clothing, we make the pattern pieces of the right side. (For mass produced clothes, all the pieces, left and right, in all the sizes that will be offered, will be put on many layers of fabric that will be cut with a saw. We use both sides of the pattern, left and right.) So this is the right side of my Vault suit (without the sleeve). Yes, that big bump is for my breast… Custom pattern. ;)
That analyse of a costume's design, trying to understand what inspired the concept artist, illustrator, mangaka, costume designer or whoever created a costume, is part of the work that I always do when I undertake a new cosplay costume. There is usually a reason or an inspiration behind each design detail and in order to make a credible or realistic interpretation of a costume, you need to understand, or at least try to guess the artists' intentions, since most of us will never be able to meet these artists or costume designers in person to ask them what they had in mind when they created this or that. Costume history, social fashion trends, traditional costumes from different countries, Fashion Designers signature look, etc. are all elements we can refer to when we try to discover and understand an artist's original inspiration. As a cosplayer with such a strong background in the clothing industry, I have to do this work. I can't only make fast and random reproductions of costumes for the sake of popularity and the social medias.  Sometimes I'm told that I brought cosplay to another level. This is certainly part of the process.
Don't you see the Vault suit differently, now? ;) Next time, I'll explain how I made it!