Assassin's Creed Odyssey Cosplay Making Of Blog Part 2 – Blog de fabrication Partie 2
Merci pour votre patience, je sais qu'il me faut parfois beaucoup de temps avant de publier la partie suivante de mes blogs. Mes 2 petites mains sont toujours occupées, mais aujourd'hui, elles ont écrit pour vous! :D
Thanks for your patience, I know it takes me a lot of time to post each part of my Making of blog. My 2 little hands are always very busy, but today, they wrote for you! :D
Je vais rapidement passer sur la fin de la confection de la ceinture parce que je sais que la plupart d'entre vous sont sans doute plus intéressés par les accessoires imprimés 3D et par mon bustier de fibre de verre recouvert de cuir. Mais la ceinture est tout de même une belle démonstration de plusieurs techniques de confection du cuir et vaut la peine d'être analysée, pour ceux et celles que le cuir et la couture intéressent davantage.
I'll quickly talk about the remaining steps of the making of the belt because I know that most of you are probably more interested about the 3D printed props or about my fiberglass plastron covered with leather. But the leather belt remains a good exercise to explain many leather sewing techniques and it's worth the analyse for those who are into sewing and leather.
Dans la partie 1 de mon blog, j'ai complété la fabrication de chaque bande de cuir qui constitue la ceinture. Maintenant, attaquons les pièces qui couvrent les hanches et la ceinture sur laquelle elles seront cousues.
Je n'ai pas dessiné ces formes au hasard. Comme pour tous les vêtements, j'ai d'abord fait une toile, un prototype pour tester mon patron et évaluer les formes et les dimensions de chaque morceau en forme de pétale. Il s'est avéré que pour reproduire le design original avec mes proportions, la pétale du devant, celles des côtés et celle du dos ont des formes et des dimensions différentes. Lorsque mon patron final a été prêt, j'ai taillé chaque forme de cuir brun et j'ai paré le haut de chaque pièce, qui sera cousu dans la bande de taille, avec ma machine à parer (skiver.)
In Part 1 of my blog, I completed the making of the leather strips that form the leather belt. Now, let's attack the petal shaped pieces that cover the hips and the belt to which they will be sewed.
I didn't drew these shapes randomly. Like for any garment, I first made mockups, prototypes to test my pattern and see what would be the proper shape and size for each petal shaped piece. As a matter of fact, to reproduce the original design and make it fit my proportions, the front piece, the side pieces and the back piece all had different shapes and sizes. Once I had my final pattern, I cut each leather piece and skived the top part, that will be sewed in the waist band, with my skiving machine.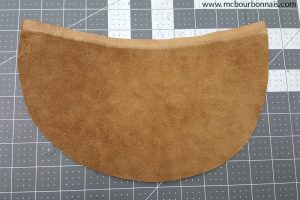 Pour reproduire le design original, j'ai décidé que la bordure rouge autour de chaque morceau brun serait faite d'une pièce appliquée par-dessus le cuir brun grâce à une technique qui est beaucoup utilisée en confection de vêtements de cuir. Le cuir ne s'assemble pas toujours selon les mêmes méthodes de confection que le tissu. Dans certains cas, plutôt que d'assembler 2 pièces ensemble en les cousant endroit contre endroit, comme on le fait la majorité du temps dans le tissu, on repliera plutôt les valeurs de coutures d'une pièce et on l'appliquera avec une surpiqûre, comme on le fait pour une poche appliquée au dos d'un jeans, par exemple. La différence est que pour le cuir, les valeurs de couture repliées seront collées et la pièces à appliquer, qui ne peut pas être épinglée dans le cuir, sera aussi légèrement collée en place avant de faire la surpiqûre. C'est la technique que j'ai utilisée pour coudre les bandes brunes sur les bandes rouges dans la partie 1 de ce blog.
Voici la bordure rouge qui sera appliquée sur la piece brune avec la colle de montage Dr. Alphonso.
To reproduce the original design, I decided that the red line around each brown piece would be a separate piece applied on top of the brown leather thanks to a technique that is commonly used in leather garment sewing. Leather isn't always sewed like fabric is. In some cases, instead of assembling 2 pieces together by sewing them the good side on the good side, we will fold the sewing allowances of a piece and apply it on top of another piece with a topstitch, as we do it for jeans' back pockets, for example. The difference is that for leather, the sewing allowances will be glued with leather glue and the piece to be applied will also be glued lightly before it will be sewed with a topstitch. This is the technique I used to sew the brown leather strips on the red ones in Part 1 of this blog.
Here's the red piece that will be applied to the brown petal shaped piece using Dr. Alphonso assembling glue.
Remarquez la valeur de couture de la pièce rouge que j'ai repliée et collée.
Notice the sewing allowance of the red piece that was folded and glued.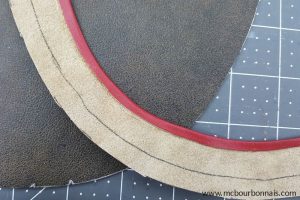 L'étape suivante consiste à appliquer le morceau rouge sur le brun en commençant par le côté avec la valeur de couture repliée. La colle à cuir est une colle contact, alors j'ai appliqué de la colle sur l'envers du morceau rouge et sur l'endroit du morceau brun.
Next step is to apply the red piece on top of the brown one. Leather glue is a contact glue, so I put glue on the wrong side of the red piece and on the good side of the brown piece.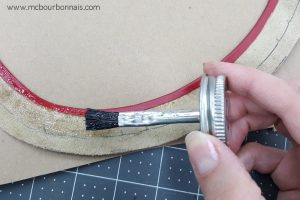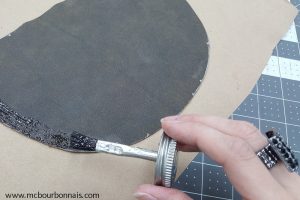 Observez bien comment j'ai appliqué la pièce brune sur la rouge en suivant une ligne que j'avais tracée sur l'envers du cuir rouge.
Watch how I applied the brown piece on the red one following a line I traced on the back of the red leather piece.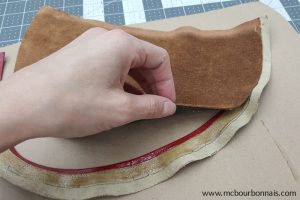 Voici le dos de la pièce assemblée. La ligne claire autour du morceau est l'envers du cuir rouge qui dépasse de la pièce de cuir brun.
Here's the back of the piece. The lighter line around is the back of the red leather that comes out from the brown leather.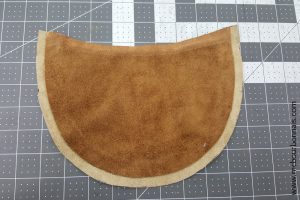 Il faut ensuite replier la valeur de couture de la bordure rouge par-dessus le contour du morceau brun. La valeur de couture sera évidemment collée.
Then I folded the sewing allowance of the red piece over the edge of the brown piece. The sewing allowance was of course glued.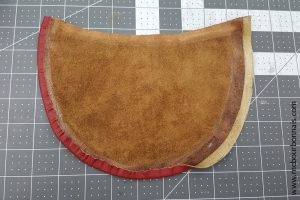 La valeur de couture collée doit ensuite être aplatie au marteau.
The glued sewing allowance now has to be flattened with a hammer.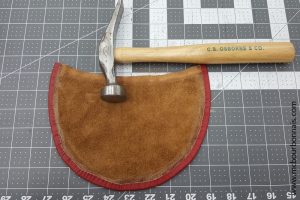 Voici la pièce assemblée sur l'endroit, puis les 4 pièces dans l'ordre.
Here's the glued piece on the good side and then the 4 pieces in order.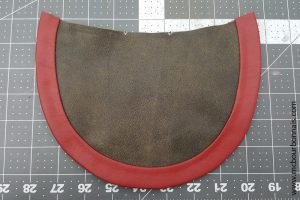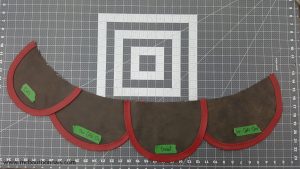 Ces pièces avaient besoin d'une finition. Ce n'est pas parce que l'envers d'un vêtement est caché qu'il ne peut pas être beau. La finition est ce qui fait la qualité d'un vêtement haut de gamme.
J'ai commencé par coller un morceau de cuir rouge qui deviendra la doublure du contour de la pièce brune. Sur l'endroit de la pièce, j'ai fait une surpiqûre autour de la bande rouge. Cela fixe la doublure et fait la finition du morceau. Il ne reste plus qu'à couper l'excès de cuir. J'aurais aussi pu replier et coller la valeur de couture de cette doublure rouge et la coller face à face avec la bordure rouge qui a aussi une valeur de couture pliée et collée. Il aurait s'agit d'une finition encore plus haut de gamme. Par contre, la technique que j'ai choisie (couper l'excédent de la doublure) est plus simple et beaucoup plus rapide.
These pieces needed proper finishing. It's not because the inside of a garment is hidden that it can't look good. Finishing is what makes a high-end garment.
I started by gluing a red piece of leather that would become the lining of the brown piece's edge. On the good side of the piece, I made a topstitch around the red line. It holds the lining and becomes the piece finishing. The last step is to cut the excess leather around the edge. I could also have folded and glued the sewing allowances of that red lining and glue it, wrong side facing the wrong side, with the other red piece that has a folded edge. It would have been an even fancier finishing. However, the technique I used is simpler and way faster.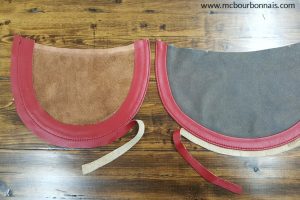 Cette doublure de cuir rouge coupée au ras du bord (technique appelée franc bord) expose la tranche du cuir. Tout comme je l'ai fait pour les bandes de la ceinture dans la partie 1 de ce blog, j'ai utilisé une teinture à cuir pour teindre la tranche en rouge.
This red leather lining that was cut flush to the edge of the brown piece shows the edge of the leather. Just like I did for the edges of the belt's leather strip in Part 1 of this blog, I used red leather dye to dye the edge of each leather piece.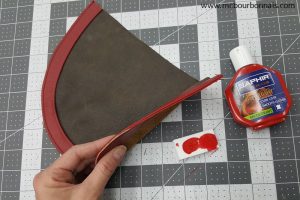 Pour éviter des épaisseurs, j'ai décidé de fixer les bandes de cuir au bas des morceaux en forme de pétales plutôt que de les faire continuer sous ces morceaux et de les coudre dans la bande de taille. J'ai donc utilisé la largeur de la bordure rouge pour y fixer par-dessous les bandes de cuir cousues précédemment (voir Partie 1 de ce blog.) Grâce à mon patron et à tous les prorotypes que j'ai faits (vous pouvez voir sur la photo toutes les modifications que mon patron a subies au fil du projet, à chaque toile/prototype) je savais exactement quelle longueur et quel angle donner à chaque bande de cuir. Chaque bande a été collée à un endroit et avec un angles précis au bas de chaque morceau en forme de pétale.
To avoid extra thickness, I decided to sew the leather strips at the bottom of the petal shaped pieces instead of making longer leather strips that would have continued under the petal shaped pieces and would have been sewed in the waist band. I used the width of the red line to sew the leather strips that had been prepared in the previous steps (see Part 1 of this blog.) Thanks to my pattern and mockups (you can see on the picture all the modifications and adjustments that I made to my pattern during the project, each time I would make a new mockup/prototype) I knew exactly the place and angle to give to each leather strip on each petal shaped piece. Each leather strip was glued to a specific place and with a specific angle under the petal shaped pieces.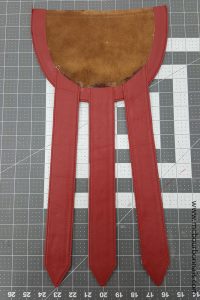 Pour faire une belle finition, j'ai collé une doublure du même cuir rouge au dos de chaque morceau en forme de pétale. Notez que la doublure cache le haut des bandes de cuir qui seront cousues à la prochaine étape.
For a nice finishing, I glued a lining of the same red leather on the back of each petal shaped piece. Notice that the lining covers the top of each leather strip that will be sewed at the next step.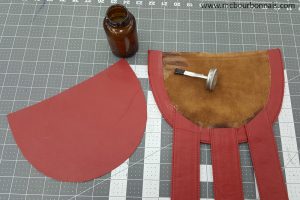 Pour fixer de façon permanente et solide les bandes de cuir sur les morceaux en forme de pétales, j'ai fait une 2ième surpiqure sur l'endroit, au haut de la bande rouge. Cette surpiqûre, en plus de faire une belle finition autour de la bande rouge, a cousu en place les bandes de cuir tout en passant à travers la doublure de cuir collée sur l'envers. Une surpiqûre qui tient tout.
Il ne reste plus qu'à proprement couper le surpous de doublure de cuir sur l'envers.
To permanently attach the leather strips to the petal shaped pieces, I made a topstitch, on the good side of the piece, on top of the red line. This topstitch is not only a nice finishing touch on the good side, it's also sewing the leather strips and the red lining glued on the other side. One topstitch that holds everything together.
Then I cut the excess leather lining.
Voici les 4 pièces et leurs bandes de cuir cousues prêtes à être assemblées dans une bande de taille, une simple ceinture étroite qui sera cachée par le plastron.
The 4 completed pieces with their leather strips ready to be sewed in a waist band, a simple narrow belt that will be hidden under the plastron.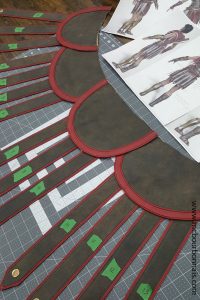 La partie confection est maintenant terminée. La ceinture s'ouvre grâce à un bouton pression au dos.
The sewing part is done. The belt opens thanks to a snap at the back.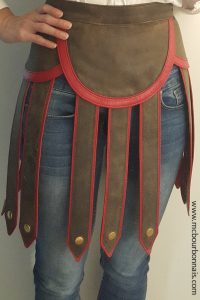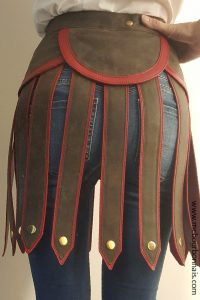 Il ne manquait plus que les rivets! J'ai marqué l'emplacement de chaque rivet et j'ai préalablement percé un trou avec ma roulette à percer le cuir avant de placer chaque rivet avec ma machine. Des têtes interchangeables permettent de placer des rivets, boutons pression, œillets, etc. de différentes grosseurs en utilisant toujours la même machine. Percer un trou d'abord est essentiel. Les rivets, boutons pression et œillets ne transpercent pas le cuir. Le trou pour les insérer doit être déjà fait.
Only the rivets were missing! I drew a dot to mark the place of each rivet and I first pierced a hole with my revolving punch pliers before adding the rivet with a machine. Interchangeable heads allow to put rivets, snaps, grommets, etc. of various sizes using always the same machine. Make a hole first is essential. Rivets, snaps and grommets don't pierce the leather. They have to go through a hole that was made first.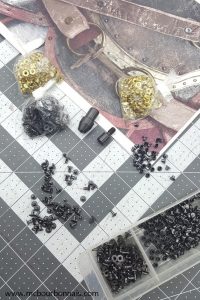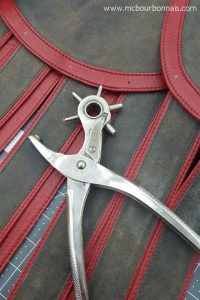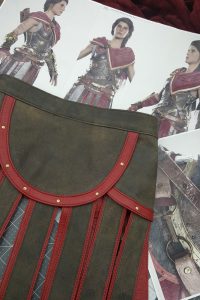 Et voilà! Une première pièce de mon costume d'Assassin's Creed Odyssey était faite! Dans mon prochain blog, je parlerai des accessoires imprimés 3D avant de retourner à d'autres étapes de couture. Un peu de techniques pour tous les goûts et tous les types d'intérêts! :)
Et voilà! A first piece of my Assassin's Creed Odyssey costume was ready! In my next blog, I'll talk about the 3D printed props before going back to more sewing steps. A little bit of everything for everybody's tastes and interests. :)