Betty Cosplay From Soda Pop Miniatures' Relic Knights – Leather Costume And Boots Making Of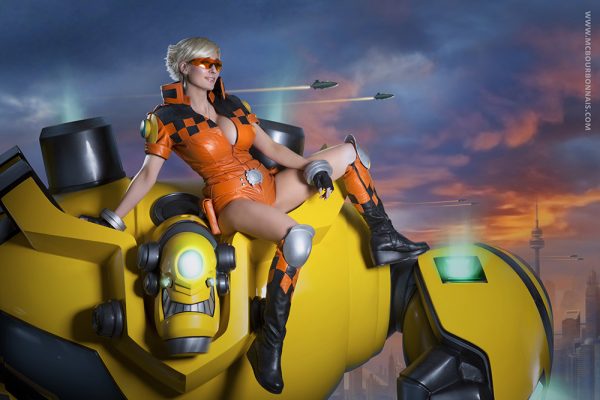 Betty and Lug the robot are 2 characters from Soda Pop Miniatures – Ninja Division's tabletop game Relic Knights. Back in 2015, when I built the fiberglass robot with my friend (see other gallery and full Making of blogs) I also made the leather costume of Betty. Notice how the sewing allowances are glued inside a leather garment, how each stitch of the checker pattern has to be perfect, how I modified the pattern so each of the princess seams arrive at a precise point in the checker pattern and how I had to glue a little square of leather in the middle of each square of the checker pattern to fill up the 'whole' created by the thickness of the sewing allowances all around each square.  The belt was made of vegetable leather covered with the same orange chrome tanned leather I used for the costume. I made all the leather costume by myself and even used that costume to pass an exam that allowed me to get a leather garment sewing diploma.
The boots were made in collaboration with an artisan shoemaker from Lévis, QC. Yvon Lamontagne showed me how to take proper measurements of my feet, how to choose the proper shoe lasts, how to make a pattern for the boots. I made the pattern for the boots' checkers and Yvon showed me all the techniques to sew the upper and assemble the wedge sole. Making boots from scratch is a long process. It took about 35 hours to build these leather boots.
The shoulder and knee pads were made of fiberglass and the belt buckle and big bracelets were made of one of Smooth-On Smooth-cast resins. I will probably never have the time to write a complete, detailed blog about that costume, but I wanted to at least share the making of pics. :) Betty's costume, with its checker pattern, is the leather garment I made that I'm the most proud of, with my MKX Scorpion costume.